In recognition of the International Day Against Homophobia, Biphobia, and Transphobia (IDAHOBIT), join the Stephen Lewis Foundation for this timely and compelling conversation about the role of global solidarity in championing health and human rights. Strength to Strength brings together diverse perspectives from community-based organizations in East Africa and Canada that are addressing the impacts of homophobia, biphobia, and transphobia and intersecting forms of oppression on LGBTIQ2S communities.
It is increasingly clear that there are deadly consequences to ignoring the ways in which global pandemics like HIV and COVID-19 thrive on inequalities, discrimination, and social and economic marginalization. Our local struggles for health and rights are globally linked, and we must work together for wellbeing, health, and human rights. Join us to hear directly from LGBTIQ2S leaders about the successes and challenges their organizations are experiencing and the impacts of the COVID-19 pandemic.
A Q&A will follow the conversation.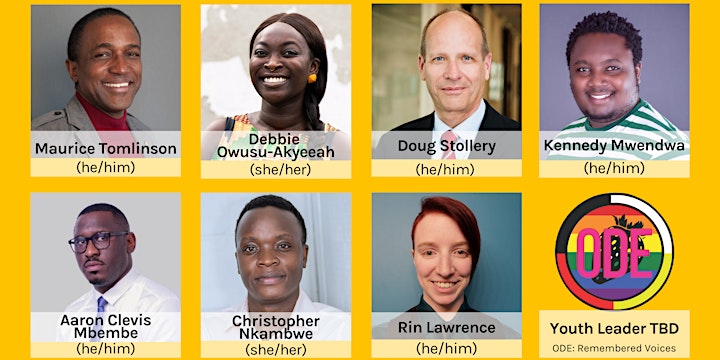 Host: Maurice Tomlinson, Board Member of the Stephen Lewis Foundation
Moderator: Debbie Owusu-Akyeeah, Director of the Canadian Centre for Gender and Sexual Diversity
Remarks: Doug Stollery, President of the Stollery Charitable Foundation
Panelists:
Kennedy Mwendwa, Project Officer at HAPA Kenya, Kenya
Aaron Clevis Mbembe, Associate Director of Policy and Advocacy at Health Development Initiative, Rwanda
Christopher Nkambwe, Founder and Team Leader at African Centre for Refugees in Ontario, Canada
Rin Lawrence, Chair of the Edmonton Public Teachers Local 37 Diversity, Equity, and Human Rights Committee and Queer-Straight Alliance, Canada
TBD, Youth Leader, ODE: Remembered Voices, Canada
IDAHOBIT is an opportunity to celebrate the LGBTIQ2S communities who are at the forefront of human rights movements and join them in calling for an end to homophobia, biphobia, and transphobia and intersecting forms of oppression. Register today to take part in this event. 

Partners in Pride
The Stephen Lewis Foundation has launched the Partners in Pride campaign to raise $3 million over the next three years to support LGBTIQ organizations in sub-Saharan Africa. By scaling-up funding to our existing partners and extending support to new partners across the region, the campaign aims to reach 100,000 people per year.
Our LGBTIQ grassroots partner organizations are human rights defenders who have been working at the intersections of health and human rights, contributing to a global movement for LGBTIQ rights for years. Now as they face a surge in human rights violations, they're providing vital health and legal support while advocating for their communities. They've built extensive peer networks that allow them to reach and support LGBTIQ community members who are most vulnerable to the impacts of the COVID-19 pandemic, and to ensure that people living with HIV have the support they need to adhere to treatment during this global crisis.
For more information about Partners in Pride, please contact [email protected]
www.stephenlewisfoundation.org/partners-in-pride
Click here to subscribe to our e-newsletter for updates and future events.