Leadership Award: Dr. Aaliya Bibi, Plan International Canada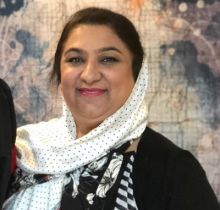 Dr. Aaliya Bibi works with Plan International Canada as a Health Advisor providing technical support for programs in Nigeria, Malawi, Bangladesh, Ghana, and business development for health projects in Sub-Saharan, West Africa, South East Asia and North America. Her specialties include program development, capacity building, research, community development, health systems strengthening, health promotion and advocacy. She has over 15 years of work experience in the international health sector, leading projects and providing technical support on maternal newborn and child health (MNCH), sexual reproductive health and rights (SRHR), health systems strengthening and nutrition, with gender equality, capacity building and behaviour change communication as cross-cutting themes. Dr. Bibi is a medical doctor with post-graduate studies in public health and global health from the University of Wisconsin, and a certificate in adolescent SRHR from the University of Melbourne.
Young Leader Award: Muzna Duried, The White Helmets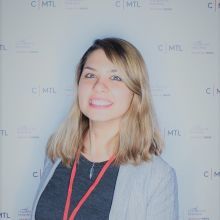 Muzna Dureid is a Syrian refugee who arrived in Montreal in November 2016. She is deeply involved in human rights issues and has extensive experience in working with refugees and women in crisis. She is a liaison officer with The White Helmets and is the founder and coordinator of 'Women Refugees, not Captives', a campaign seeking to end the practice of forced child marriages in Syrian refugee camps. Muzna is also the founder of an Indigenous – Refugees movement, which offers a safe space for women and a series workshops for Youth seeking to build stronger bonds between Indigenous peoples and refugees in Canada. She's a member of the advisory committee for the Local Engagement Refugee Research Network (LEARN) project at Carleton University which focuses on the role of civil society in promoting protection and solutions for refugees and on the implementation of the Global compact for refugees. She also has experience in mines risk education and sexual and gender-based violence through her work with the White Helmets and Folkekirkens Nødhjælp-DCA. She was nominated as a member of the Groupe de Trente leaders of Montreal by the Quebec Ministry of Immigration, Diversity, and Inclusion. She was also invited to participate in consultations of Canada's National Action Plan on Women, Peace, and Security 2017-2022. Muzna is a laureate of the Sister to Sister mentorship program offered by the Nobel Women's Initiative. She is also part of the Women Deliver Young Leaders group of 2018- 2019 in Canada. Just one year after arriving in Canada, Muzna was nominated to the list of Top 25 Canadian Immigrants.
Measuring Impact Award: Dr. Vandana Sharma, Harvard T.H. Chan School of Public Health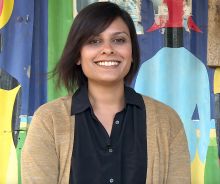 Dr. Vandana Sharma is a global health researcher currently based at the Harvard T.H Chan School of Public Health with expertise in impact evaluations, randomized controlled trials and capacity building in development and humanitarian contexts. Her research has included randomized trials of interventions to reduce maternal mortality in northern Nigeria and to reduce HIV transmission and intimate partner violence (IPV) in Ethiopia, as well as mixed-methods IPV research among Somali refugees. She also developed an innovative, free online course "Measuring Health Outcomes in Field Surveys" on edX.org which uses documentary footage from Kenya and India to provide immersive learning. Dr. Sharma earned her Doctor of Medicine (MD) from the University of Western Ontario and a Masters in Public Health from the Johns Hopkins Bloomberg School of Public Health where she was a Sommer Scholar. She was previously a Senior Research Scientist at the Abdul Latif Jameel Poverty Action Lab (J-PAL) at the Massachusetts Institute of Technology.  In 2018, she was named to the Canadian Women in Global Health List.
Gender Equality Award: Jennifer Donville, Plan International Canada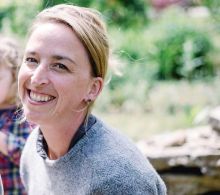 Jennifer Donville is a Senior Gender Equality Advisor at Plan International Canada, currently providing direct gender equality oversight for Global Affairs Canada-funded programs in Senegal, Bangladesh, Ghana, Nigeria, Haiti, Ethiopia and Bangladesh. She has over a decade of international development experience in program management with a focus on gender equality and child rights for projects across Asia and Africa, particularly with respect to girls' rights, education, and sexual and reproductive health and rights. She holds a Master's in International Development and a Bachelor of Arts in Political Science. Jennifer's professional focus has been on gender equality capacity building, training design and facilitation, and the monitoring and evaluation of gender equality results.
Partnership Award: ENRICH
World Vision Canada, Nutrition International, HarvestPlus, the Canadian Society for International Health and the University of Toronto's Dalla Lana School of Public Health
Enhancing Nutrition Services to Improve Maternal and Child Health (ENRICH) is a multi-year, multi-country program funded by Global Affairs Canada that aims to improve the health and nutrition of women and children in Bangladesh, Kenya, Myanmar, and Tanzania. ENRICH is implemented by World Vision Canada, Nutrition International, HarvestPlus, the Canadian Society for International Health, and the University of Toronto's Dalla Lana School of Public Health. The goal of ENRICH is to contribute to the reduction of maternal and child mortality in each country by addressing issues critical to the health of mothers, newborns and young children. ENRICH seeks to achieve this through health systems strengthening with an emphasis on community systems, improving nutrition of pregnant women, infants and young children during the first 1,000 days from conception to 24 months of age, and ensuring accountability at all levels.